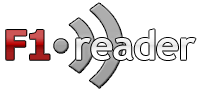 Today's Most Popular Headlines

What did we learn from the Australian Grand Prix?
Mercedes scored a sweeping, dominant victory during the first race of the 2019 Formula One World Championship season. Despite to the expectations, Ferrari, the favourite team after the pre-season testing, experienced a shocking fourth and fifth finish, suffering from uncompetitiveness both it terms of one-lap and race performance.
Latest comments
Australian Grand Prix
17th of March 2019